Tổng quan
Features
Photometric throughput of 180 tests/hour
Multi-function sample and reagent carousel
Probe with DLL detection and vertical collision protection
Proven HCFG Photometry system
On-board hemolysis function for HbA1c
Triple Speed mixing mechanism
Efficient laundry system with 7 stops, 11 steps
UV Plastic Semi permanent reaction cuvette
Bubble detection function for accurate aspiration
Best in class water consumption of 4L/hour
Advanced user-friendly software
Calibration & QC program
Technology
HCFG Photometry System – Accurate | Reliable | Stable | Long life span | Low maintenance (Holographic Concave Flat Field Grating, rear spectrophotometry reducing ambient light interference)
Cluster light source technology: Photo spot Technology to reach super trace analysis
Assay
Glucose, Glucose Hexokinase, Cholesterol, Triglycerides, HDL-C Direct, LDL-C Direct, Urea U.V, Enzymatic creatinine, Uric Acid , SGOT, SGPT, Albumin , Total Protein , Bilirubin Total TAB, Bilirubin Driect, Alkaline phosphatase, α-Amylase, Gamma GT, Calcium (Arsenazo ) , Inorganic Phosphorus, LDH – P, Magnesium, CK-NAC, ASO, CRP, RF, HbA1c Direct, Microalbumin, CRP Ultra, IgA, IgE, IgG, IgM, Lp (a), C3, C4, Apo A1, Apo B, Ceruloplasmin, Cystatin C, Ferritin, Prealbumin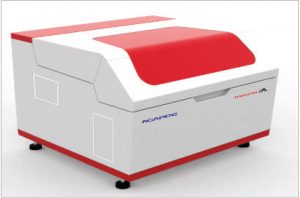 PURPOSE BUILT…PERFORMANCE DRIVEN
Mispa CXL Pro is a compact, fully automated clinical chemistry
analyzer with photometric throughput of 180 tests per hour. Mispa
CXL Pro has Holographic Concave Flat Field Grating (HCFG) rear
spectrophotometry system designed for best reliability and maximum
accuracy.
On-board washing and cleaning system in Mispa CXL Pro adopting 7
stops 11 steps, ensures minimum carryover and precise result
delivery. Mispa CXL Pro is the best in the class with grating, mixing,
washing and user-friendly classic features.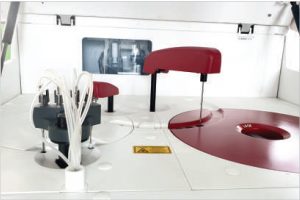 SAMPLE/REAGENT PIPETTING MECHANISM
Probe with digital liquid level detection and vertical collision protection
Analyzer has special degassing device to remove air dissolved in tube for accurate pipetting
Syringes are made of long life high precision ceramic piston,ensures minimal maintenance
60nm polished probe with nano coating technology
Thermostat air bath to ensure temperature of 37±0.1°C
MULTI-FUNCTION SAMPLE & REAGENT CAROUSEL
40 reagent and 40 sample positions with anywhere anytime STAT facility
24 hours continuous cooling condition ensures quality of reagent,control and calibrator
Can accommodate 20ml and 70ml reagent bottles
Barcoded tailor-made dedicated system reagents
Standard cup, original blood tube, multi-specification tube (10~13) x (75~100) mm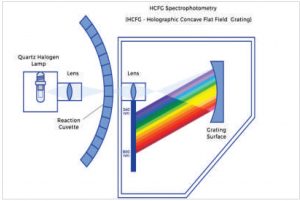 PROVEN HCFG PHOTOMETRY SYSTEM
Monochromator with holographic concave flat field grating (HCFG), rear spectrophotometric 12 ways parallel measuring technology, reduces ambient light interferences to get accurate result.
Photospot technology to reach super micro analysis.
Specially designed lamp placement to reduce signal attenuation and interference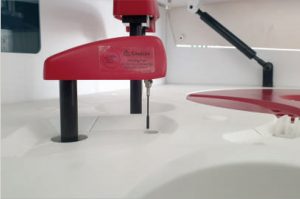 TRIPLE SPEED MIXING MECHANISM
Teflon coated stirrer, to avoid liquid suspension and reduce cross contamination
Triple speed mixing mechanism is highly efficient for latex based assays
Flat paddle stirrer design with swirl rinsing offers homogeneous mixing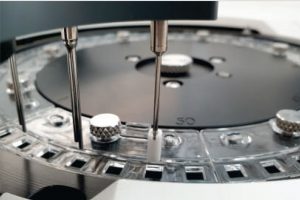 EFFICIENT LAUNDRY SYSTEM
Laundry system adopting 7 stops,11 steps
Vacuum draining liquid, detergent and warm water rinsing ensures guaranteed accuracy
Water consumption of 4 L/hour
SEMI PERMANENT REACTION CUVETTE
Rigid semi permanent reaction cuvette, with good penetrating of Ultraviolet (UV)
Reaction cuvettes ensures cost savings with enhanced durability of 9 to 12 months
1 Set 7 Pieces | 8 Sets 56 Pieces | Cuvette optical path of 5mm
CALIBRATION & QC PROGRAM
Linear and non-linear calibration with 9 types of calibration curve
6 different levels of calibration for each item can be programmed
QC with Westgard multi rules
QC plot with L-J and cumulative statistics
Automatic error reporting complaint with lab QC management